Recipes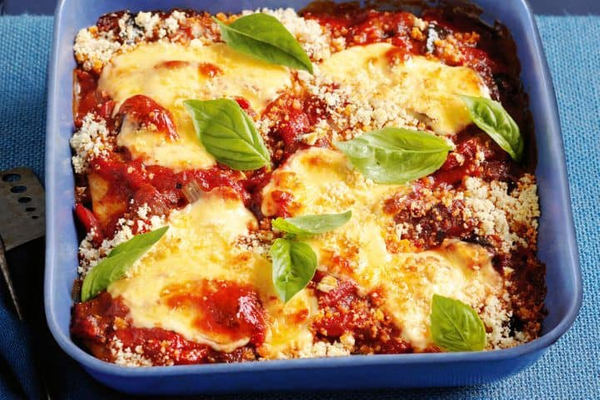 30-minute Chicken Parmigiana Bake
Preperation Time: 10 minutes
Cook Time: 30 minutes
Serves: 4 People
Ingredients
1 1/2 tablespoons olive oil
6 (700g) chicken breast schnitzels (uncrumbed), halved crossways
1 medium brown onion, chopped
2 garlic cloves, crushed
340g jar fire-roasted pepper strips, drained
230g tub diced antipasto chargrilled eggplant, drained (see note)
1 1/2 cups tomato pasta sauce
1/3 cup Fountain Spicy Red sauce
1/4 cup fresh basil leaves, torn
100g mozzarella cheese, thinly sliced
1/3 cup fresh breadcrumbs
Basil leaves, to serve

Method
Step 1. Preheat oven to 220°C/200°C fan-forced. Heat 1 tablespoon oil in a large frying pan over medium-high heat. Cook chicken, in 2 batches, for 2 to 3 minutes each side or until browned and cooked through. Transfer to a plate.

Step 2. Heat remaining oil in pan. Add onion and garlic. Cook, stirring occasionally, for 2 minutes or until onion has softened. Add peppers and eggplant. Cook, stirring, for 1 minute. Add pasta sauce and Spicy Red sauce. Bring to the boil. Stir in basil. Season with salt and pepper.

Step 3. Place half the chicken in a 10 cup-capacity ovenproof dish. Pour over half the sauce mixture. Top with remaining chicken and sauce mixture. Top with cheese. Sprinkle with breadcrumbs.

Step 4. Bake for 10 to 15 minutes or until top is golden. Serve topped with basil.